The Most Common Davignon Varieties
Surprisingly just a few of the "most common" contemporary counterfeit Capped Bust half dollar varieties have been estimated to comprise approximately half of all surviving specimens! Below in this section are images and descriptions of these "most common" contemporary counterfeit varieties. If you are attempting to match a coin to one of these varieties it is important to match precisely to the images for a selected "most c0mmon"coin variety, as small variations in your coin could point to an entirely different variety with its own distinct rarity (i.e. Over 360 known varieties are identified in the reference book Common Contemporary Counterfeit Capped Bust Half Dollar 2nd Edition Attribution Guide by Keith Davignon along with the New Discoveries sections of this website.)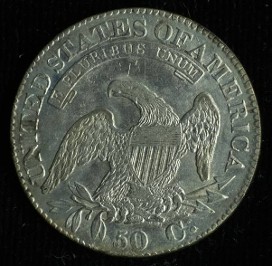 1823
Obv. 1 Large stars
Rev. A Small S's in "States"
Les-Below right ¼ of E
Res-Right serif, left stand of M
Obv. Well executed. Star 7 points to center of headband. Center die dot on neck. Stars 4 and 5 are close. Star 8 nearly touches cap. Lump above left of star 7.
Rev. I centered under left stand of T. Raised lumps (die rust?) above C. in 50 C.
Copper, or copper with silver wash, or German silver. Extremely common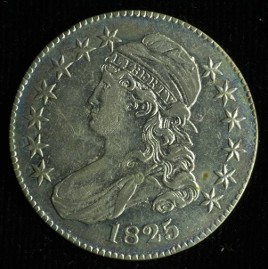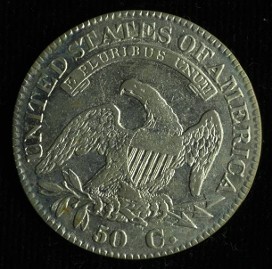 1825
Obv. 1 Large stars, distant from edge
Rev. A Die "crud" above C. in 50 C.
Les-Below right ¼ of E
Res-Below right serif, left stand of M
Obv. Center dot on neck. Star 7 nearly touches upper half of headband. Die lump visible on top of cap, near star 8.
Rev. Both S's in "States" smaller than all other letters in legend. Many raised lumps, probably from die rust, especially above C. in 50 C.
Example of this variety was once slabbed AU-50 by PCGS! Dies are work of a skilled engraver, often mistaken as a cast piece because of rusty dies.
Extremely common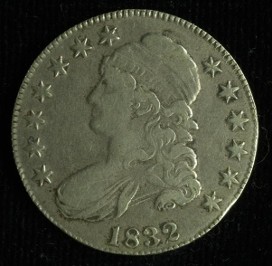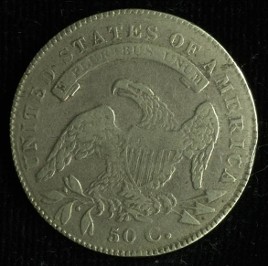 1832
Obv. 3 Small, low date
Rev. C Small letters in legend
Les-Between E and D
Res-Between A and M
Obv. All features like genuine coin. Star 7 points to middle of headband. Usually with die crack below left of bust.
Rev. Very small letters in legend, distant from rim. Right side of I aligns with left side of T.
Very Common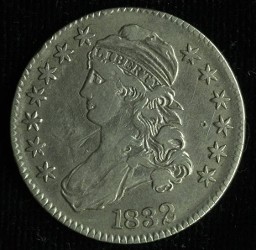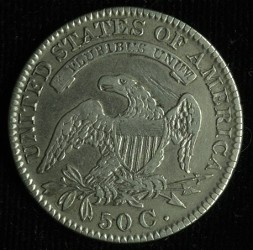 1832
Obv. 5 Narrow portrait
Rev. E Large eagle head with "evil eye"
Les-Below left serif of D
Res-Below left side, left stand of M
Obv. Large date, curl of 2 tilts up. Pronounced eye and nose.
Rev. I just right of center below T. Legend large and well spaced.
No. 460 as listed in Riddell monograph. Very common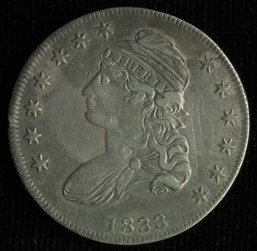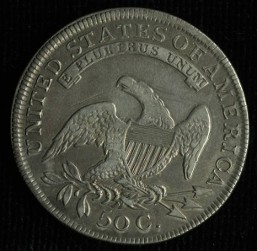 1833
Obv. 1 Small, thin date
Rev. A Jumbo 5 in 50 C.
Les-Between E and D
Res-Below lower right serif, right stand of A
Obv. Well executed dies. Good portrait, although face is too long. Small, well-spaced stars. 8 in date is a little high.
Rev. Letters in legend are a bit "thin." 50 C is large, thin, and high. Eagle's eye missing.
Extremely common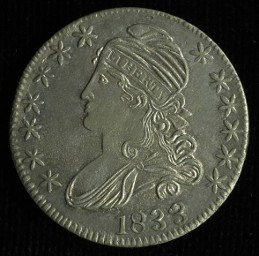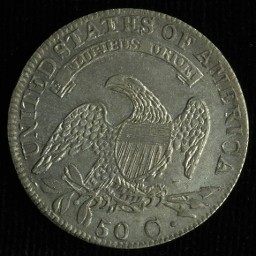 1833
Obv. 2 Last 3 recut at top
Rev. B Arrowheads recut
Les-Below middle of E
Res-Below left stand of M
Obv. Large, crude stars. Exaggerated hair curls and cap folds. 1 in date low. Junction of loops of 3's long and pointed.
Rev. Die defect in field below right wing. 50 C low.
Very common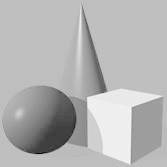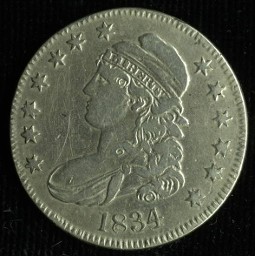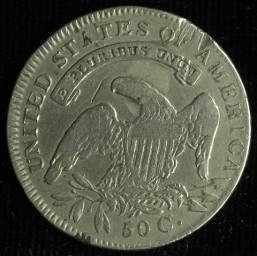 1834
Obv. 1 Tall thin date
Rev. A Backward Us in scroll
Les-Between E and D
Res-Below lower right serif, right base of A
Obv. Same portrait as 1833 14/N and 23/W. Larger spaces between stars 1 and 2, 6 and 7.
Rev. Us in scroll punched in backward. 50 C is small and high.
Copper or German silver. Very common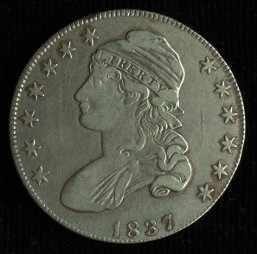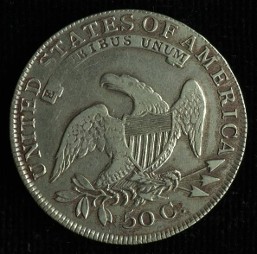 1837
Obv. 2 Small stars
Rev. B Jumbo 5 in 50 C.
Les-Between E and D
Res-Below lower right serif of A
Obv. Date small and low. Star 8 has a "spike-like" defect on the inside point.
Rev. Letters in legend are a bit "thin." 50 C is large, thin, and high. Eagle's eye missing. Though not of Mint quality, 37 2/B, 38 3/C and 38 3/E lettered edge varieties have often been mistaken for genuine U.S. Mint experimental pieces.
Lettered edge. Very Common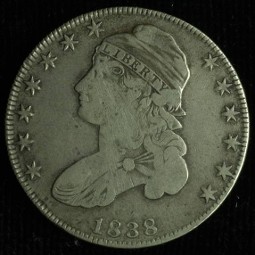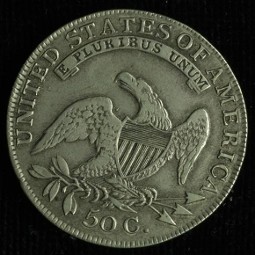 1838
Obv. 3 Small date, 8s higher than 3
Rev. C Jumbo 5 in 50 C.
Les-Between E and D
Res-Below lower right serif of A
Obv. Stars very close to dentils, with many connected by die breaks, especially stars 11 and 12.
Rev. Letters in legend are a bit "thin." 50 C is large, thin, and high. Eagle's eye missing. No cracks or other evidence as to why this prolific die was retired and replaced with Rev. E.
Lettered edge. Extremely common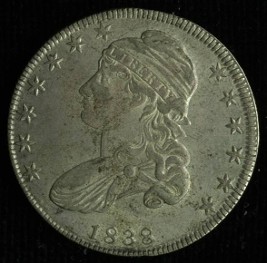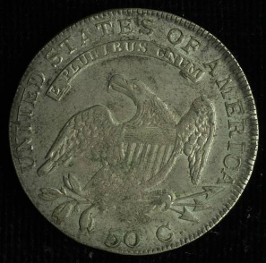 1838
Obv. 3 Small date, 8s higher than 3
Rev. E 50 C. is low
Les-Between E and D
Res-Below center of A
Obv. Stars very close to dentils, with many connected by die breaks, especially stars 11 and 12.
Rev. Though similar to reverse C, right edge of scroll (Res) is below center of A in "America," and 50 C. is large and much lower.
Lettered edge. Extremely common (probably the most common of all bogus bust halves).